---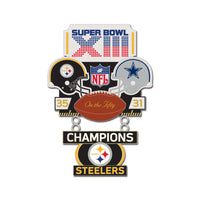 Sale
Oversized pin measures 2 5/8" x 1.5" and features 2 pieces connected by a loop. The top piece features both participating teams and the final score. The smaller dangler piece celebrates the champion.
Part of the Super Bowl's 50th anniversary 'On the Fifty' collection, this pin marks memorable Super Bowls of the past.
Featuring the Steelers win over the Cowboys in Super Bowl 13, this 2-piece pin is a great addition to any fan's collection. The champion's logo dangles below the upper section in a great eye-catching design.